Back to the top
Quilted Pet Carrier - Pink
Our one of a kind pet carrier is a pet car seat, hands free walking leash, has an interior detachable walking leash, pet bed for small dogs or cats, airline approved carrier for small dogs, high fashion designer bag, waterproof and is vegan friendly.
This is the first pet carrier to have all these functions in 1 product to safely secure your pet in the car so you're not distracted by your pet while driving.
Lipstick Pet Carrier:  10" wide x 16" long
PLEASE NOTE: The exact color you are ordering is photos 2-4 with the girl holding the bag and in the convertible car.
†The ZuGo Pet bag is only used as a distraction tether. It has not been crash tested and is only use in the car to help with distractions in the car.
ZuGo Pet is made of finest vinyl and canvas with extensive hardware. All bags come in one size. 16x10x10
ALL ZuGo Pet bags should be hand washed in cold water with very mild soap with a soft wash cloth to clean and wipe dry. ZuGo Pet bags are not intended for strenuous physical water activity or long periods of time or harsh scrubbing on the vinyl. Please use our bags with care and at your own risk. 
Kaftan: Dry Clean ONLY

** Due to the intricate hand made and exclusivity of the product, quilting patterns may slightly differ than what is demonstrated on the site. Each product is truly one-of-a-kind ** 
WHAT IS YOUR RETURN POLICY? We want you to be completely happy with your order. If for any reason you are not satisfied, we will gladly exchange your timely return of unused, unwashed, or defective merchandise.  We do not issue refunds; all merchandise may be returned for store credit or exchanged.
Returns are accepted on merchandise within 14 days of receipt for items that HAVE NOT BEEN USED OR WASHED, and with ALL tags attached and inserts returned. 
FINAL SALE ITEMS MAY NOT BE RETURNED. ALL SALE ITEMS ARE FINAL SALE. 
Shipping is non refundable. All international orders are FINAL. Approved Returns will be given online credit and exchanges will be honored at the shipping expense of the customer.
When sending back your return please include the Return Merchandise Form here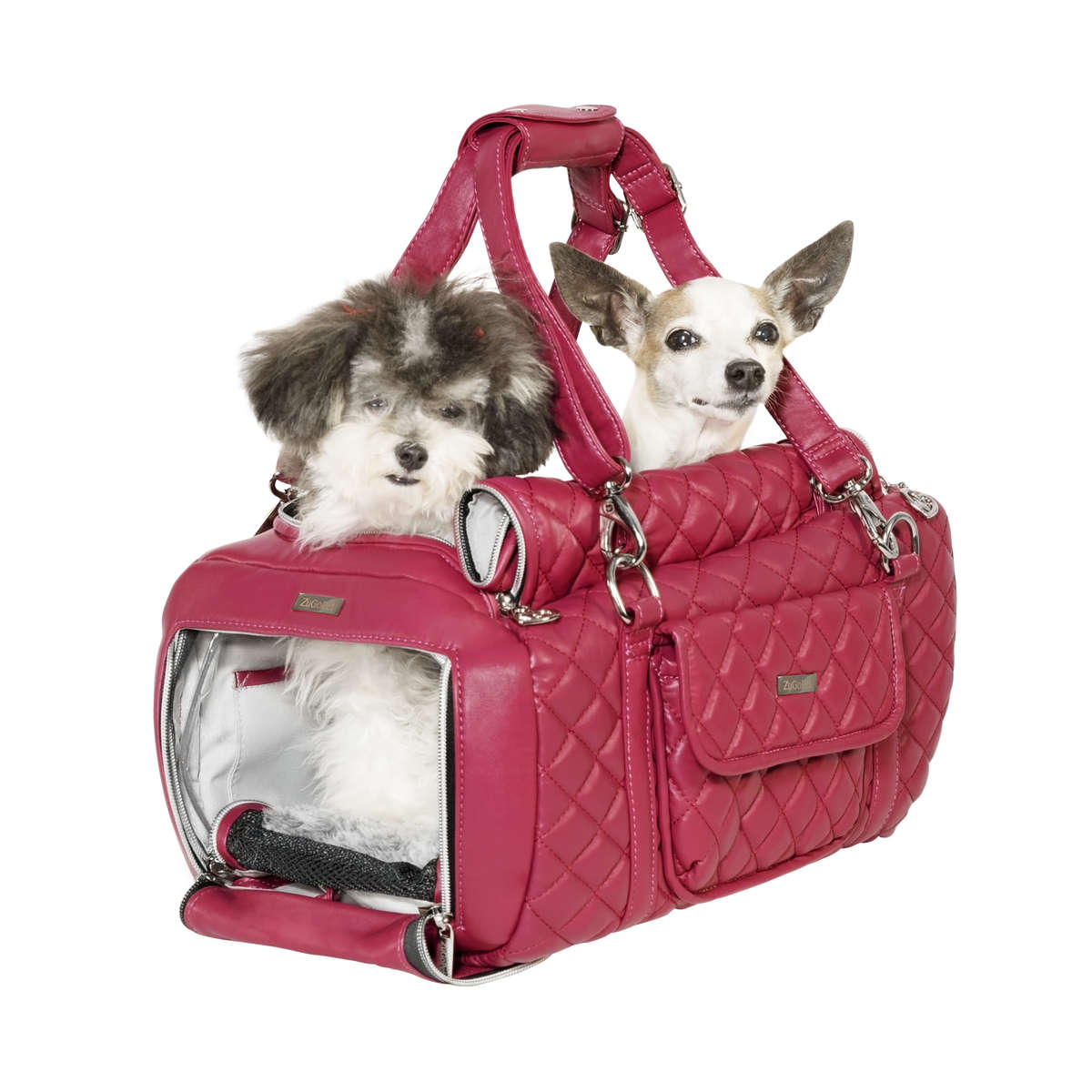 The quilted bag functions are:
Dog Car Seat
Detaches from the car and turns into a designer handbag,
Airline compliant,
Water proof interior,
5 pockets for your belongings,
A dog bed,
Every bag includes adjustable straps for over the chest carrying option
3 leash attachments which allow for hands-free walking.
The interior safety strap adjusts into a dog leash with two clips which allows you to clip your dog onto a fence or chair easily without a hassle.
Inserts for coolers or heating pads to control your pets temperature.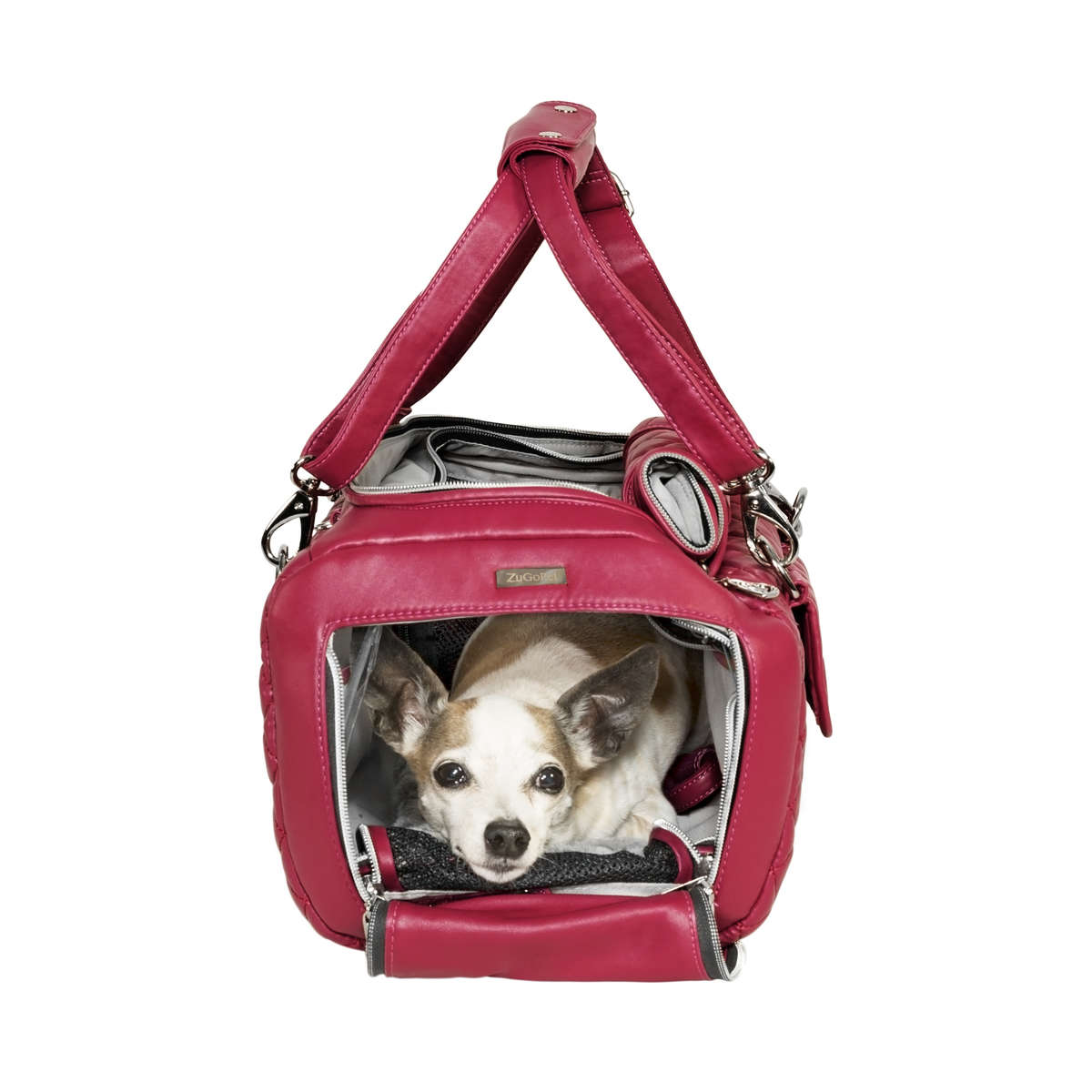 Airplane Compliant dog bag and dog car seat.


Our pet carriers are specifically designed so you can travel on any airline, national or international. The ZuGoPet qulited pet bag collection has three separate openings with easy to zip mesh doors. If your dog wants more privacy or gets frightened easily while traveling simply zip up the two sides and the top flap is never fully zipped allowing air to flow into the bag. To fully secure the bags flaps, we have convenient snap locks on the top of each side of the pet bag to secure the side doors.
This dog bag comes with over 7 functions in one product. Includes hands free walking leash and removable soft flexible pillow.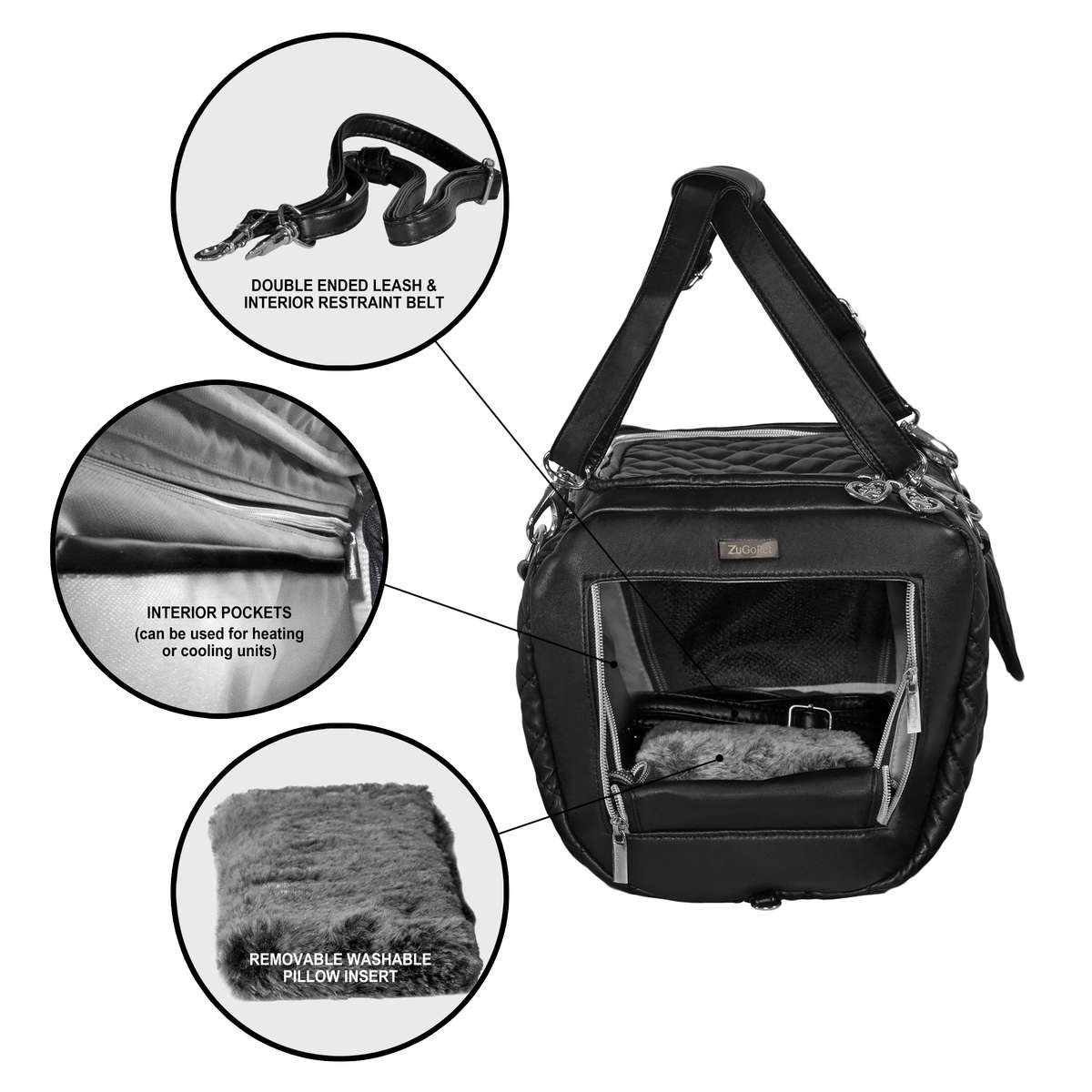 Every bag comes with a soft flexible pillow to form around your pets body to give them the feel of being in a hammock. There is also a detachable pet leash that can be used for:
Hands-free walking.
The interior safety strap adjusts into a dog leash with two clips on each side
The 2 clips allows you to clip your dog onto a fence or chair easily without a the hassle of tying the leash in a knot to secure your dog or lifting any chairs to ensure the leash is around securely.
Your small dogs new home away from home.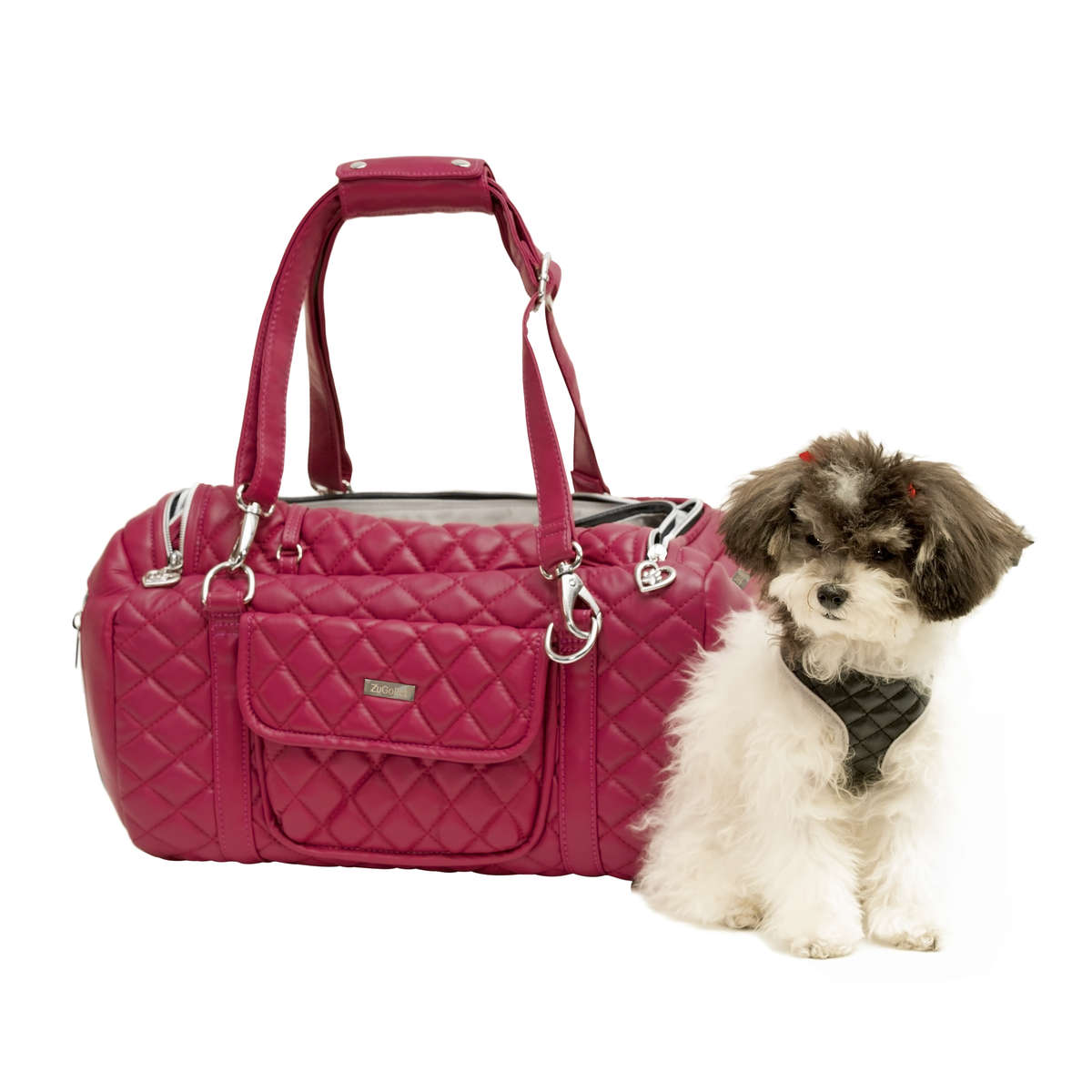 ZuGoPet has donated thousands of dollars to rescue dogs out of kill shelters and to help find them happy homes. Every bag purchase helps an animal in need. With our "Buy a Bag, Save a Life" program, any ZuGoPet product purchase we donate to an animal rescue facility.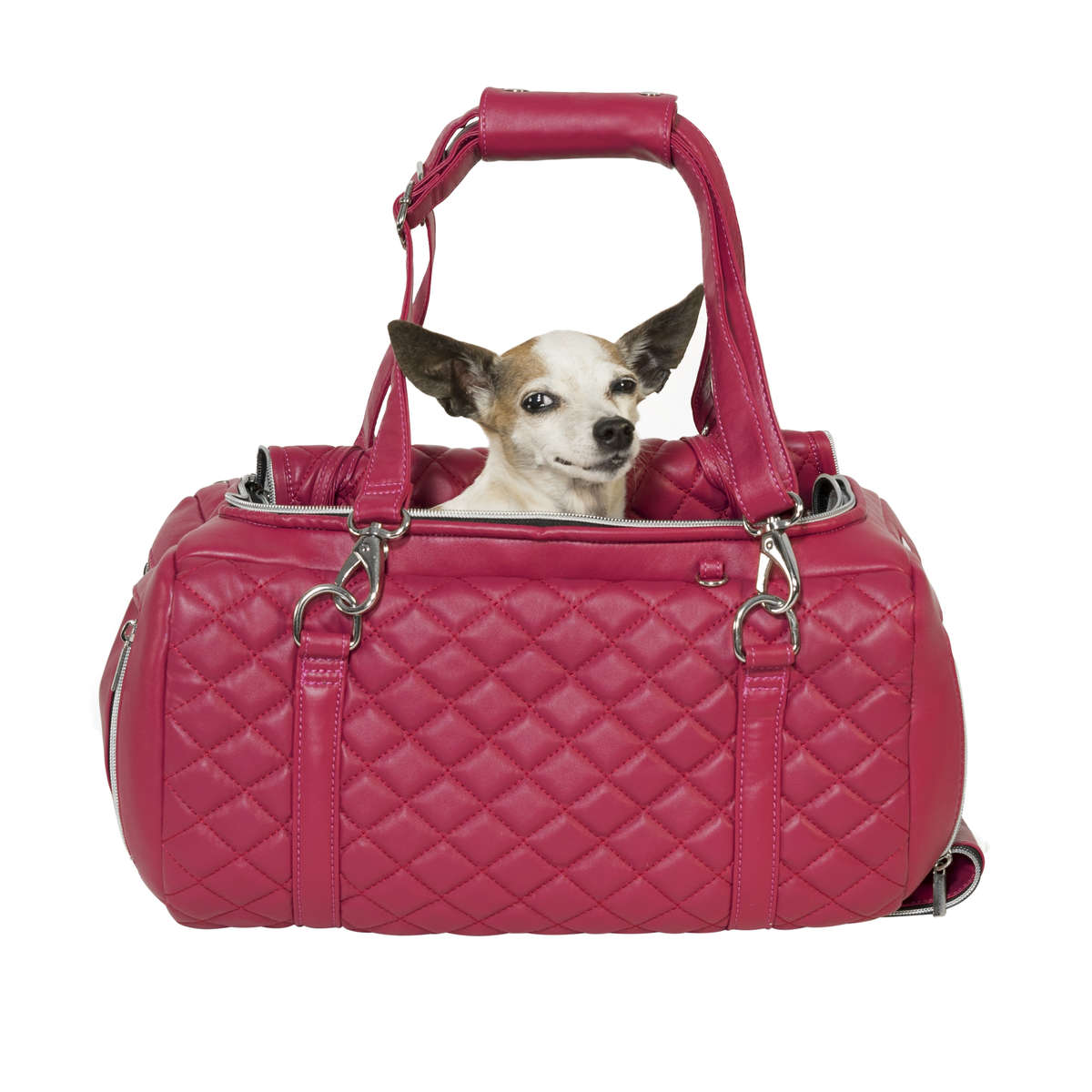 The top of the bag rolls back when using the two snap ties located in-between the mesh and the quilted ceiling.

If you would like to open the top of your dog bag, simply roll the top ceiling up (preferably with the quilting facing outward) and use the two snap ties to secure the ceiling in place by utilizing the small D rings on top of the bag.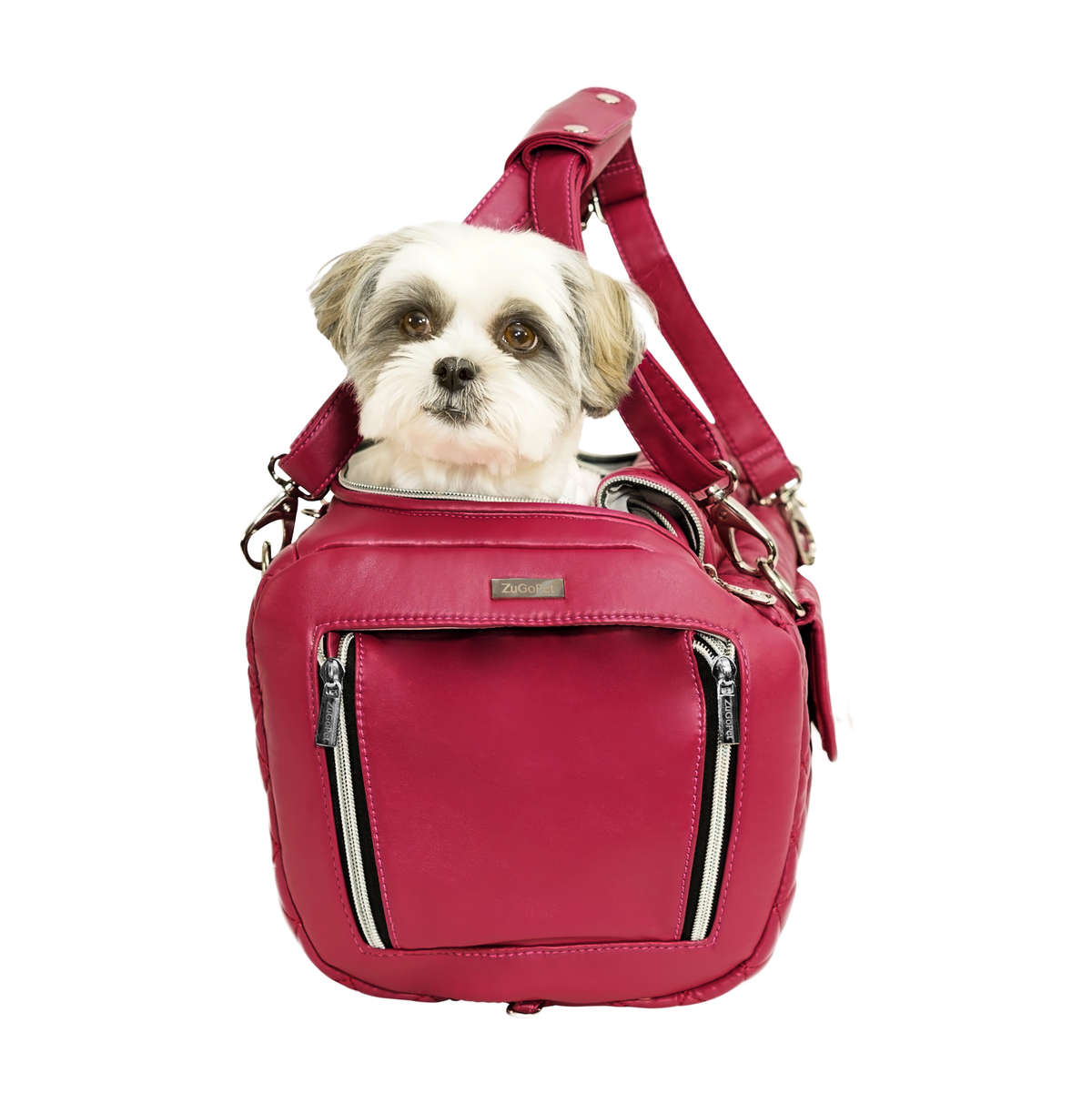 The ZuGoPet quilted collection is specifically made for dogs smaller than 16 inches to enclose the inside of the bag. If your pet is larger than 16 inches you can still use the bag as a car seat distraction tether, open up the top of the bag so they can be positioned right next to you in the car.