Back to the top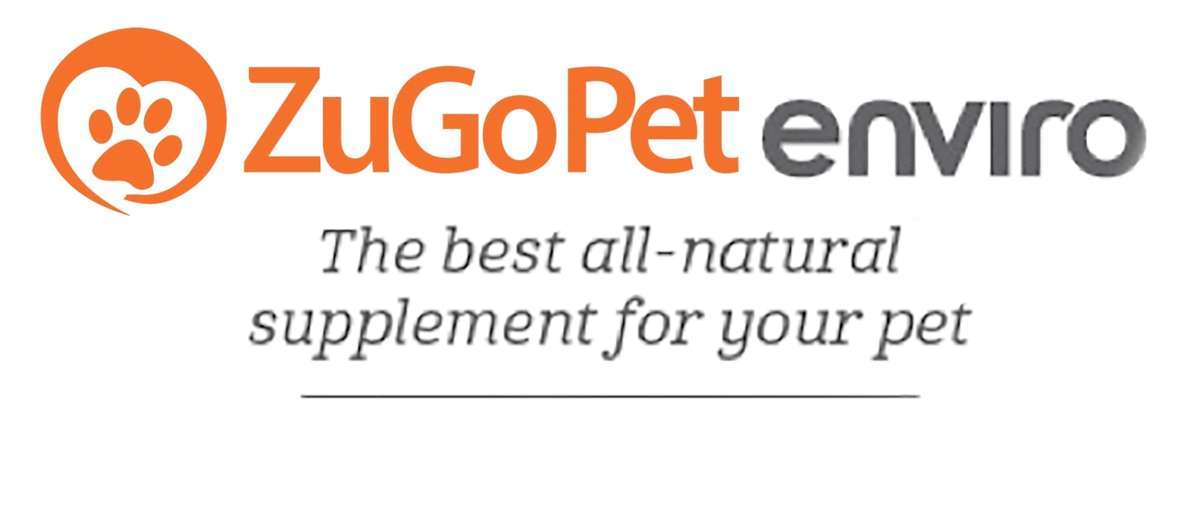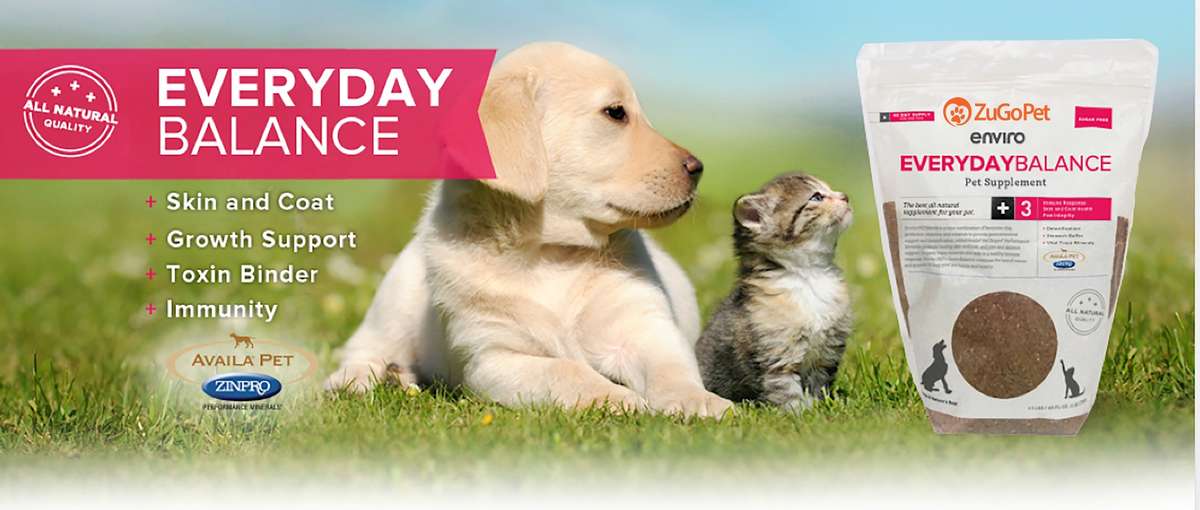 Skin and Coat, Growth Support, Immunity

ZuGoPet's Enviro EveryDayBalance blends a unique combination of flax, probiotics, vitamins, and minerals to provide gastrointestinal support and detoxification. Added Ayala® Pet Aggro® Performance Minerals promote healthy skin and coat, and joint and skeleton support. Organic trace minerals also aide in a healthy immune response. ZuGoPet's Enviro EveryDayBalance combines the best of nature and science to keep your pet happy and healthy.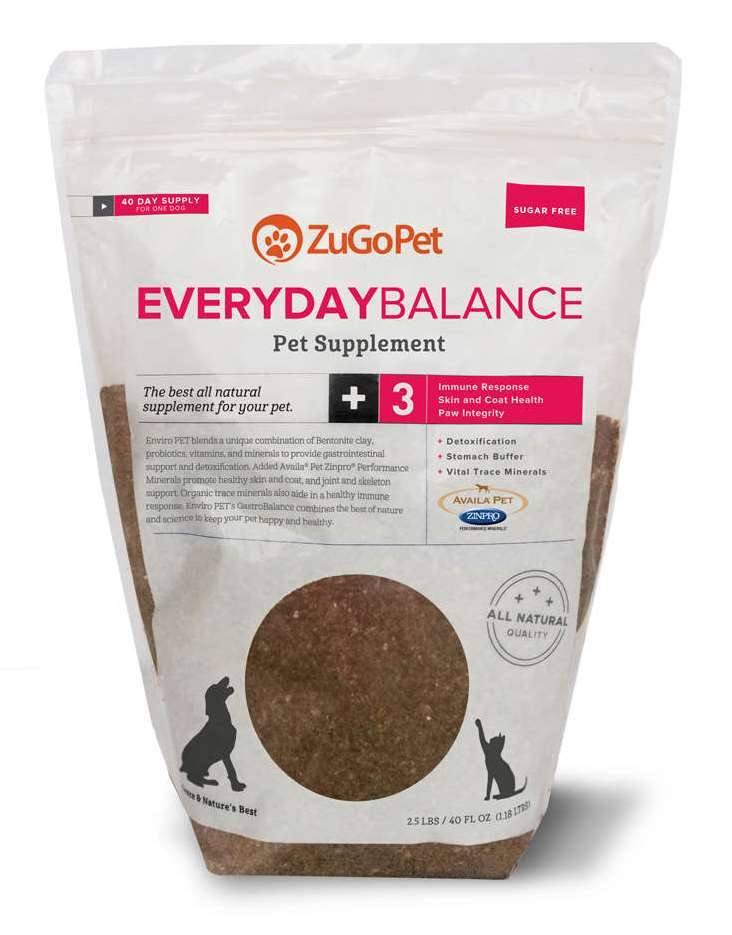 SUGAR FREE GUARANTEED ANALYSIS
Per 1 oz dose
| | |
| --- | --- |
| Crude Protein | 20% |
| Crude Fat | 30% |
| Crude Fiber | 9% |
| Lysine | 0.75 mg |
| Methionine | 0.2 mg |
| Calcium | 75 mg |
| Phosphorus | 15 mg |
| Magnesium | 4 mg |
| Zinc | 0.14 mg |
| Vitamin E 60 IU | |
| Saccharomyces cerevisiae | |
| 7 billion Yeast culture | |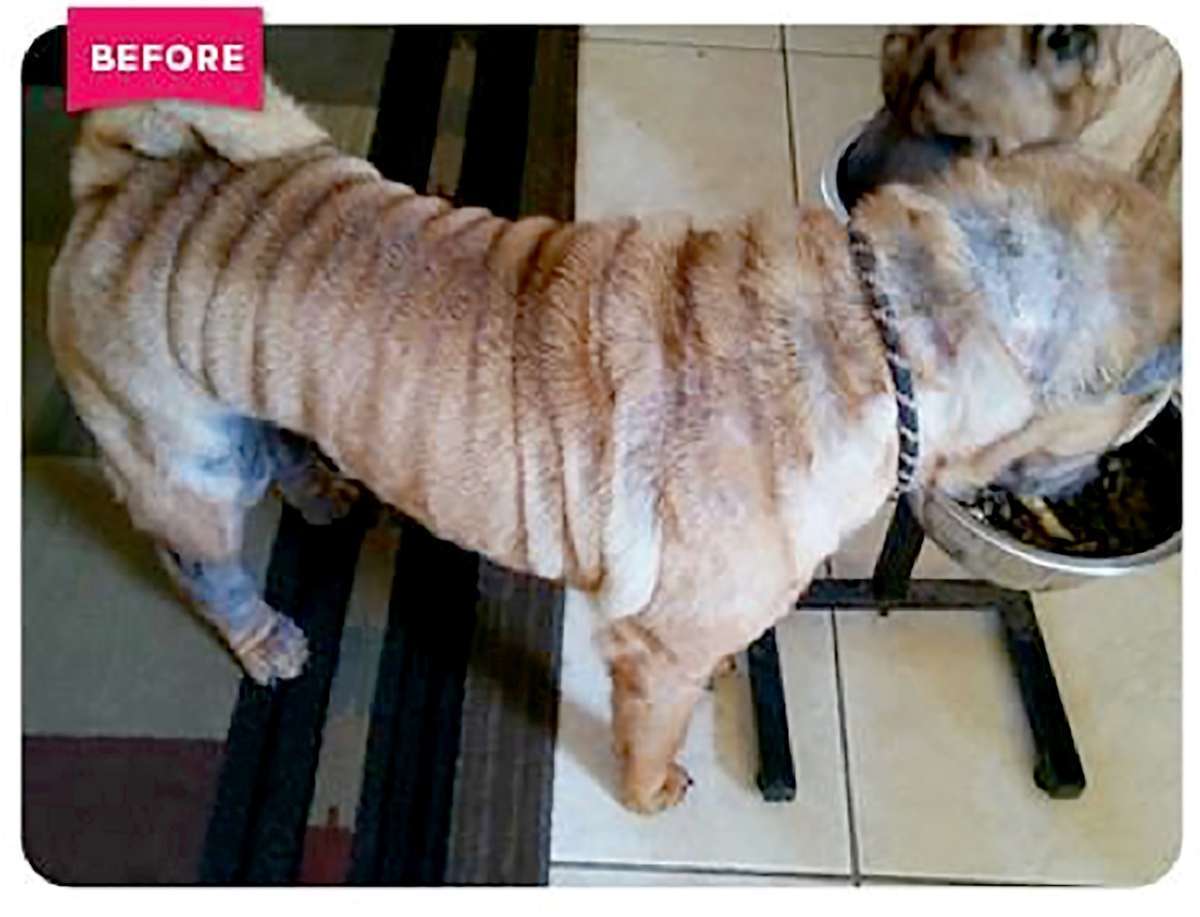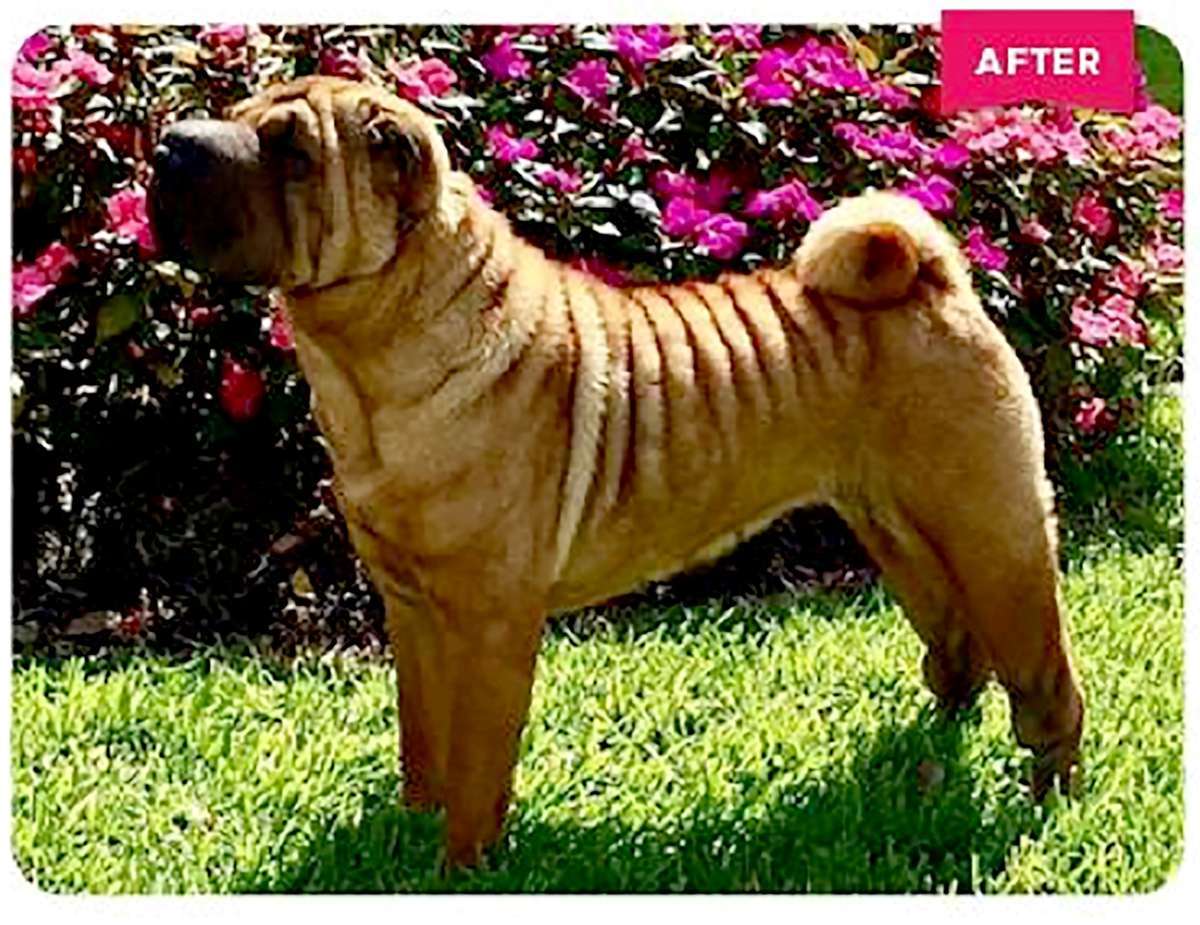 45 days on EveryDayBalance, Hype was healthier than ever.
She lost much of her hair & her skin was raw and painful. Once we started her on the EveryDayBalance, her condition improved rapidly. We were amazed with the results and the dogs absolutely love it! Thank you for a great, all-natural product!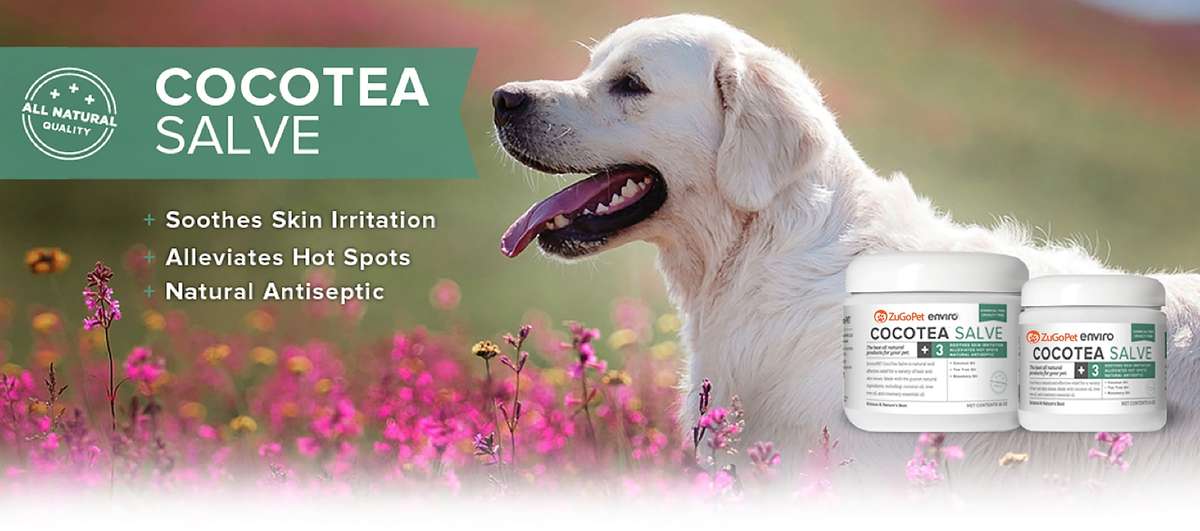 Hair and Skin Treatment

ZuGoPet's Enviro CocoTea Salve has been formulated to combine the natural healing and antibacterial properties of coconut, tea tree and rosemary oil that may help combat a variety of skin ailments, including hotspots, itchy/scaly skin and allergic reactions. This soothing formula is gentle on the skin, and encourages healthy hair growth.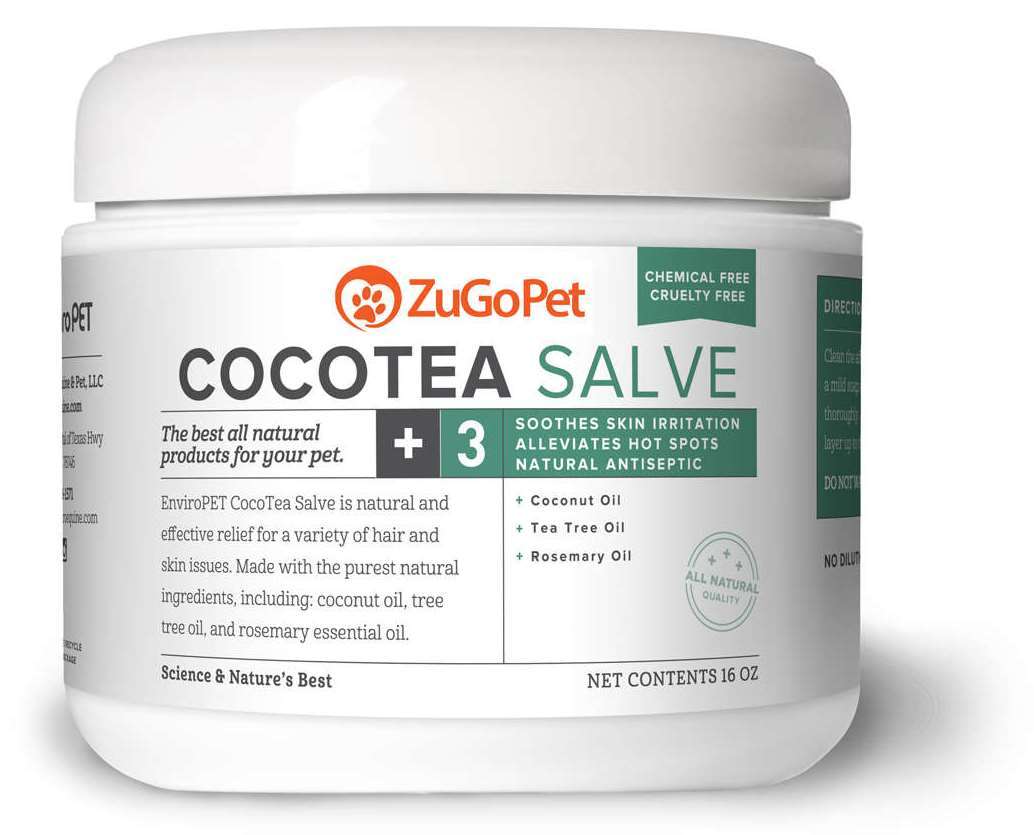 Soothes Skin Irritation
Alleviates Hot Spots
Natural Antiseptic
Tea Tree Oil,
Rosemary Oil,
Coconut Oil,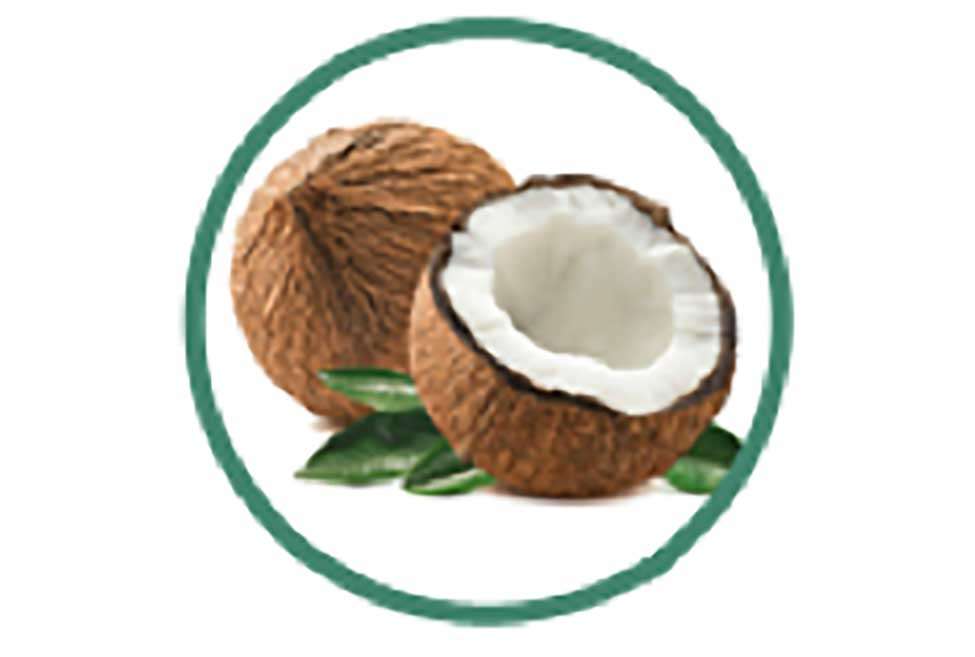 A natural antimicrobial and antifungal, coconut oil is a natural oil hypothesized to have antibacterial activity by disrupating bacterial and fungal cell membranes. Rich in vitamin E, essential for healthy skin and hair growth, Skin repair, and high in antioxidants. Also aids in reducing scarring.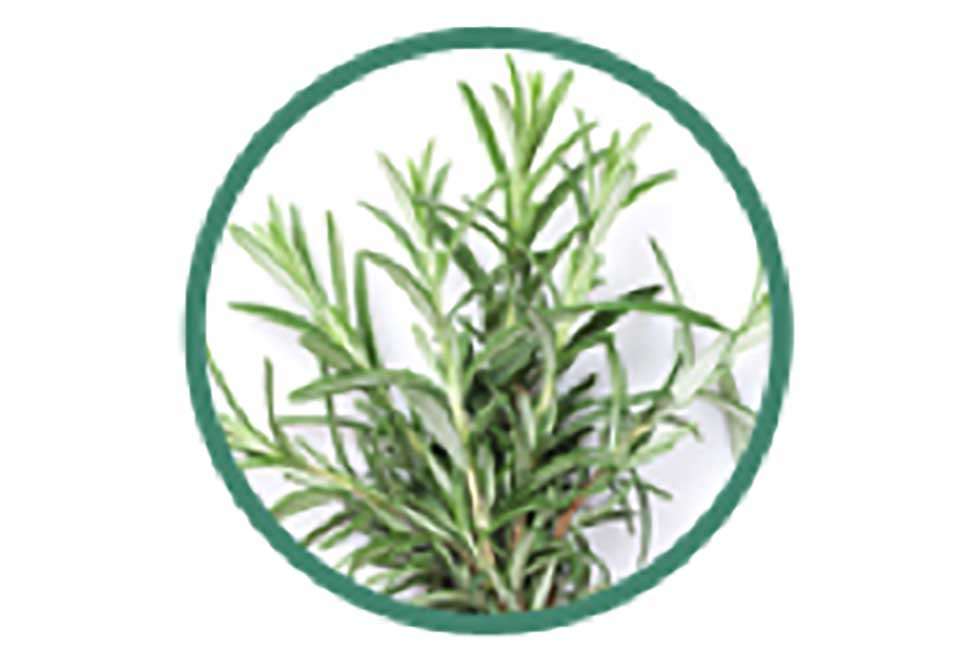 When applied topically, continual use can have the following benefits: Reduction in inflammation of the scalp and hair follicles, increase of antibacterial properties, and it can help to increase localized blood flow. Rosemary oil is also a natural insecticide and mosquito repellant.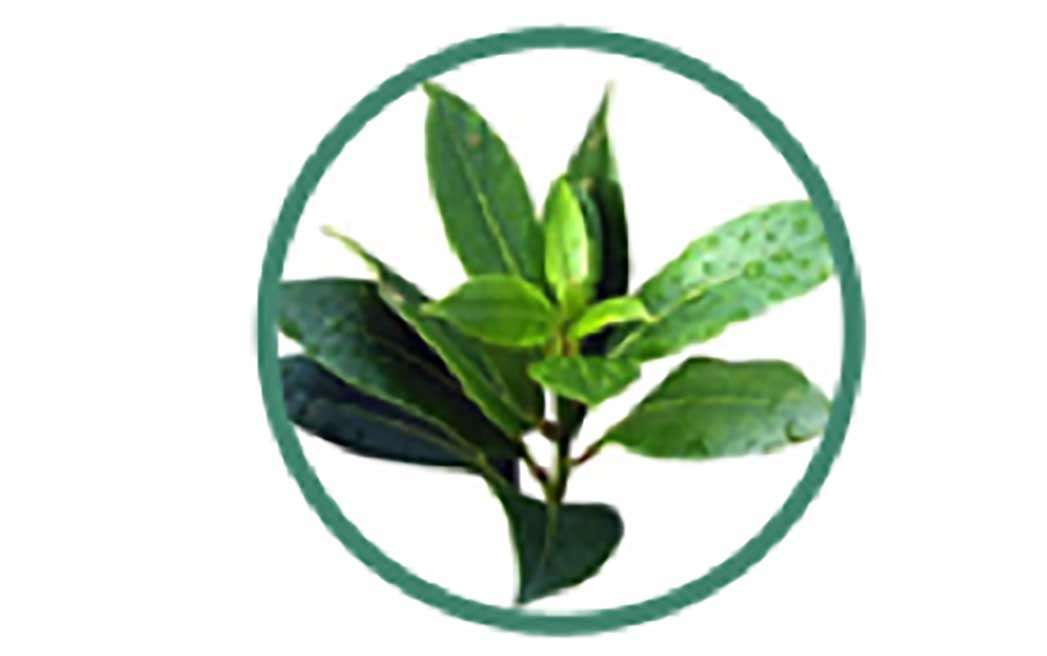 Primary uses of tea tree oil have historically capitalized on the antiseptic and anti-inflammatory actions of the oil. It is often used as a natural remedy to prevent infection in small wounds, blisters, and burns. Tea tree oil has also been noted as being an effective treatment for ringworm. An added plus-tea tree oil is also a natural insecticide.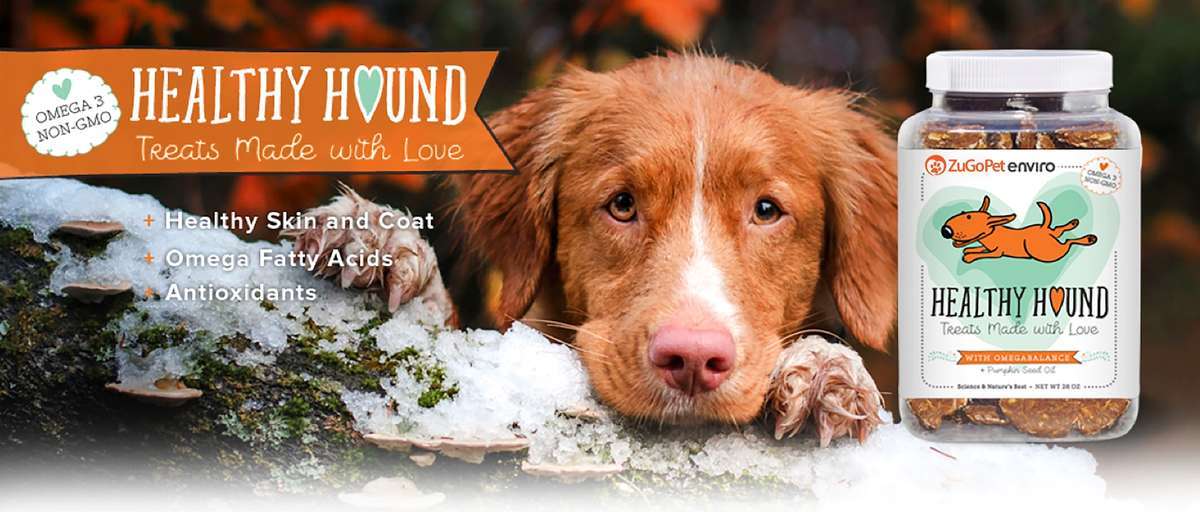 Vegan - Omega 3 Treats Made with Love
Healthy Coat and Skin, Antioxidants, Omega 3 Fatty Acids

Dogs of all sizes can't get enough of these ZuGoPet's Enviro Healthy Hound Treats. Made in the USA with wholesome, natural ingredients, Healthy Hound also has added OmegaBalance with pumpkin seed oil, providing essential Omega- 3 fatty acids as well as all natural Vitamin E. One or two treats provides a full serving of Omega Balance.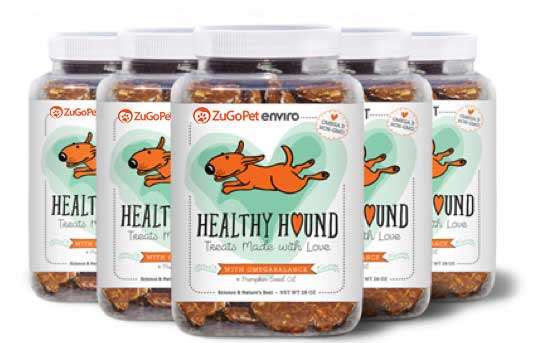 OMEGA 3
NON GMO

Crude Protein (min) 11.11%
Crude Fat (min) 4.48%
Crude Fiber (max) 0.5%
Moistme (max) 8.14%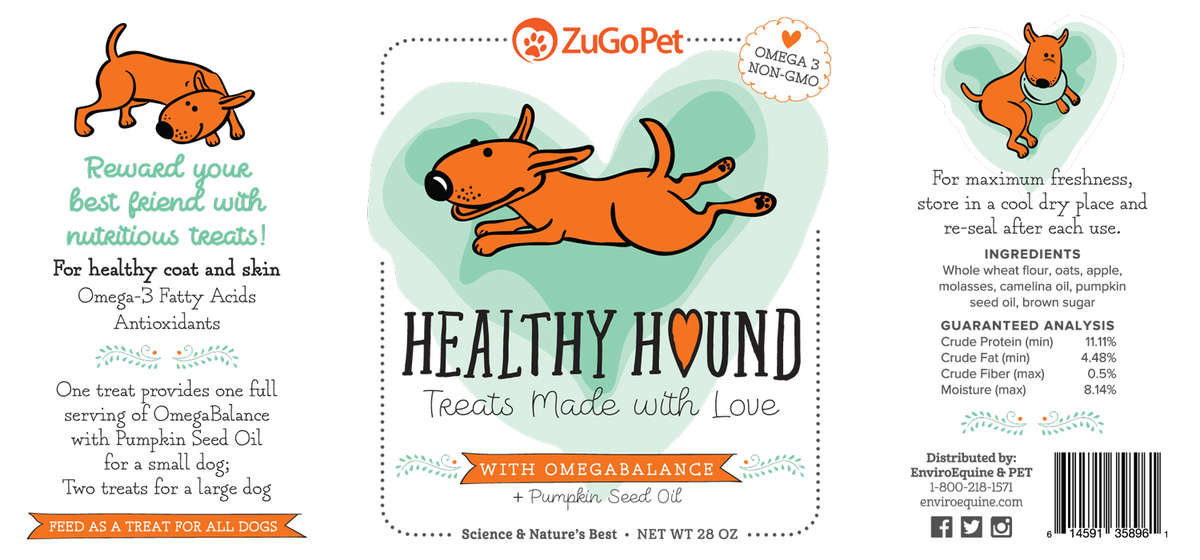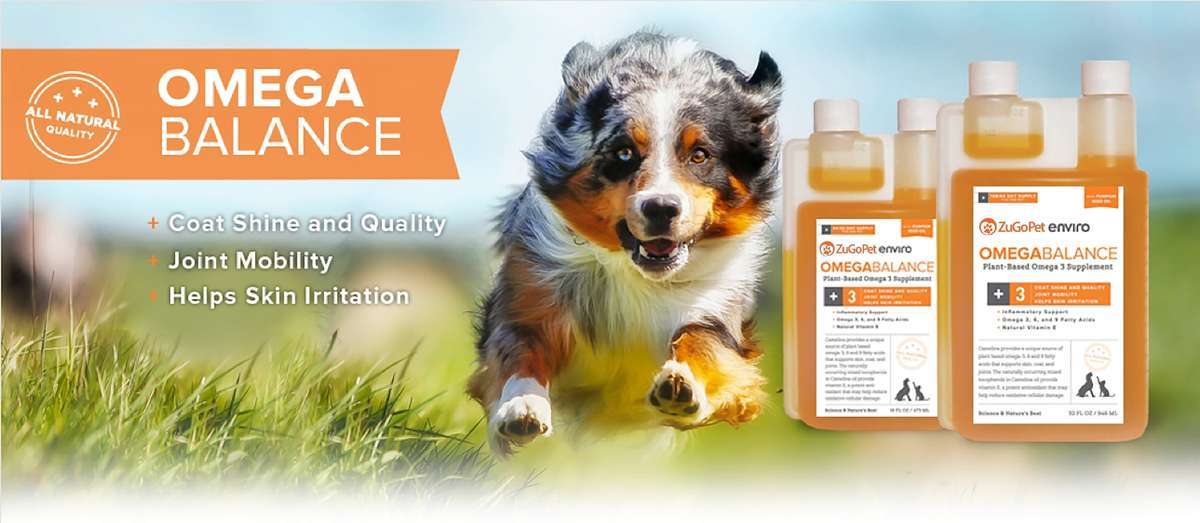 Plant-Based Omega 3 Supplement
Coat Shine and Quality, Joint Mobility, Helps Skin Irritation

ZuGoPet's Enviro OmegaBalance gives the added benefit of omega-3 fatty acids to help support a healthy inflammatory response. This is particularly important for performance dogs as well as those that are aged and potentially suffer from joint pain. While your pet will feel the benefit of these research proven ingredients internally, you will be able to see the benefits in the healthy skin and beautiful coat!
OmegaBalance is a rich source of omega 3 fatty acids which provide multiple layers of benefits for your dog, including helping to support healthy joints & helping to maintain normal inflammatory response. In addition, it promotes coat condition & shedding prevention, supports a healthy heart & blood circulation, encourages a healthy immune response & may reduce the negative effects of allergies & Malassezia, Pachydermis yeast infections. It can even aid in maintaining mental alertness in older dogs and can be used for skin & wound care.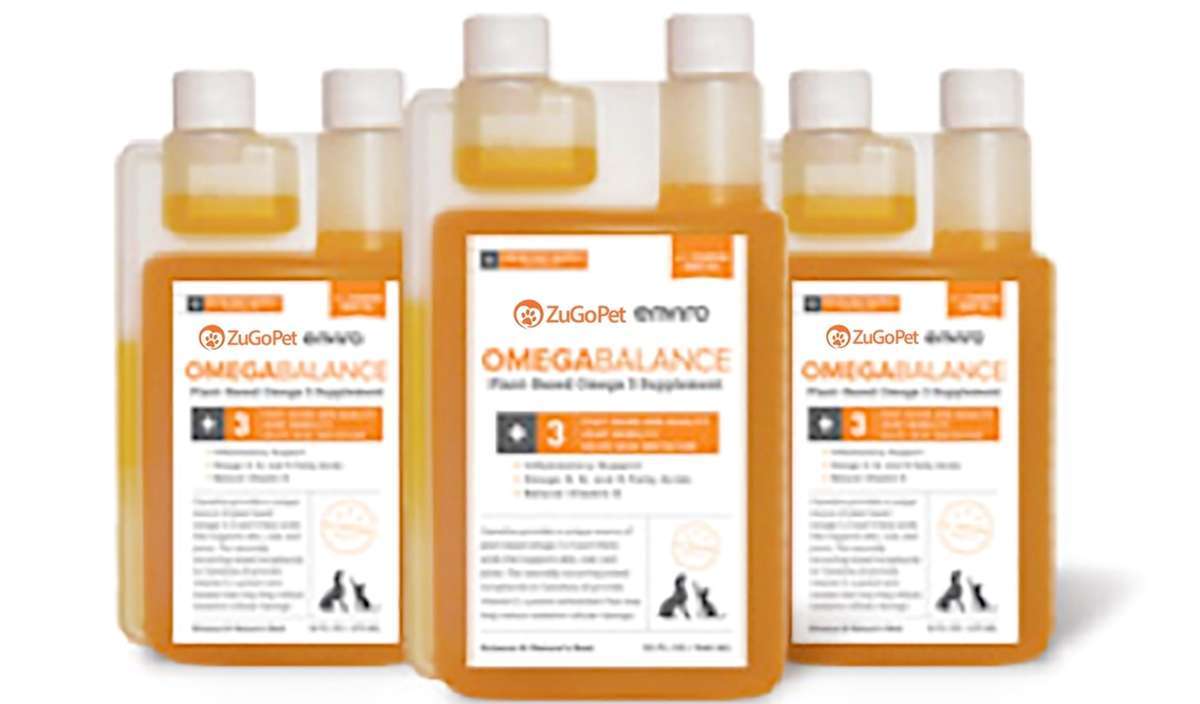 ACTIVE INGREDIENTS
Per 1/4 fl oz serving Min
Omega 3 30%
Omega 6 16%
Omega 9 14%
Vltamin E 2mg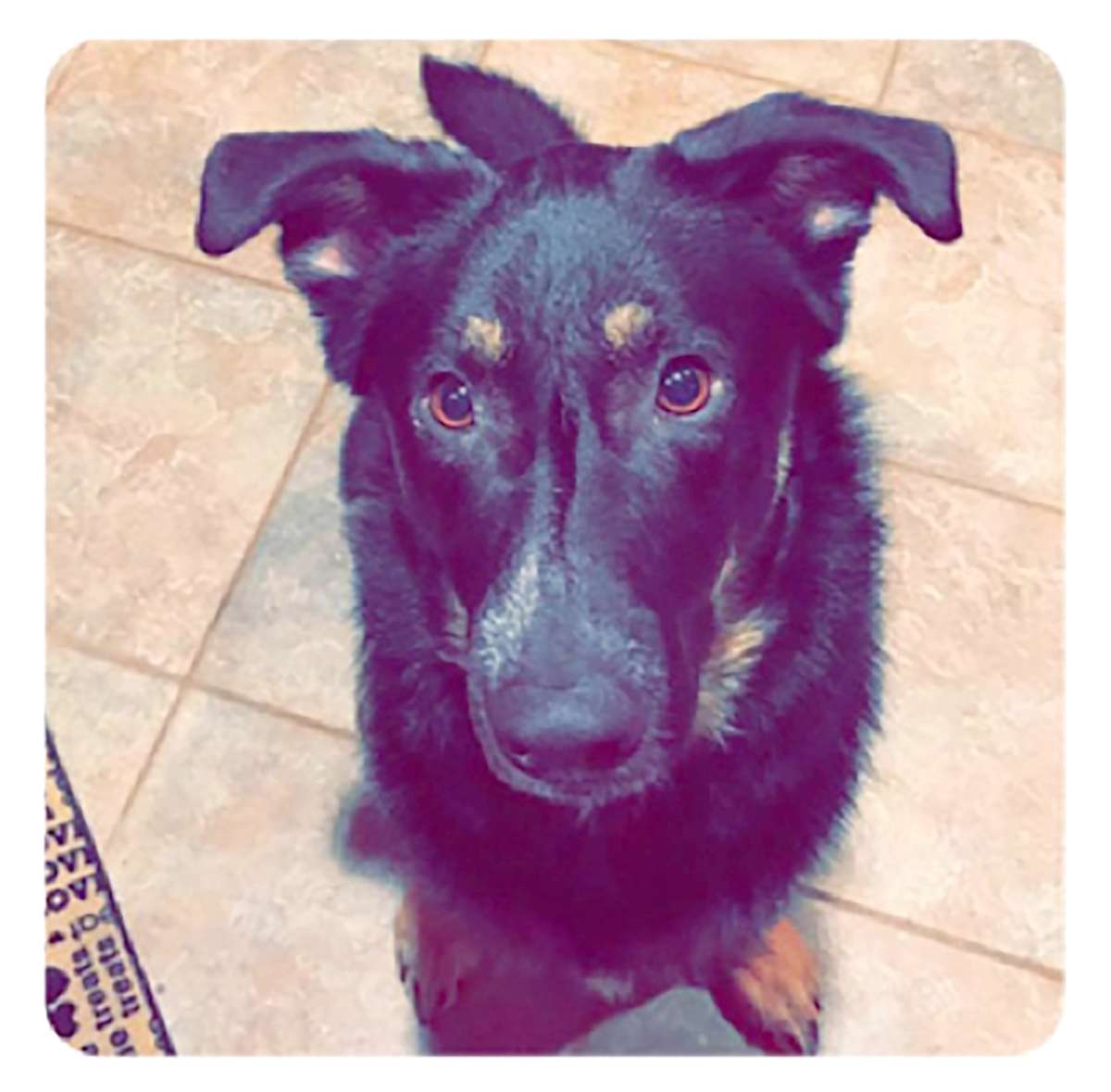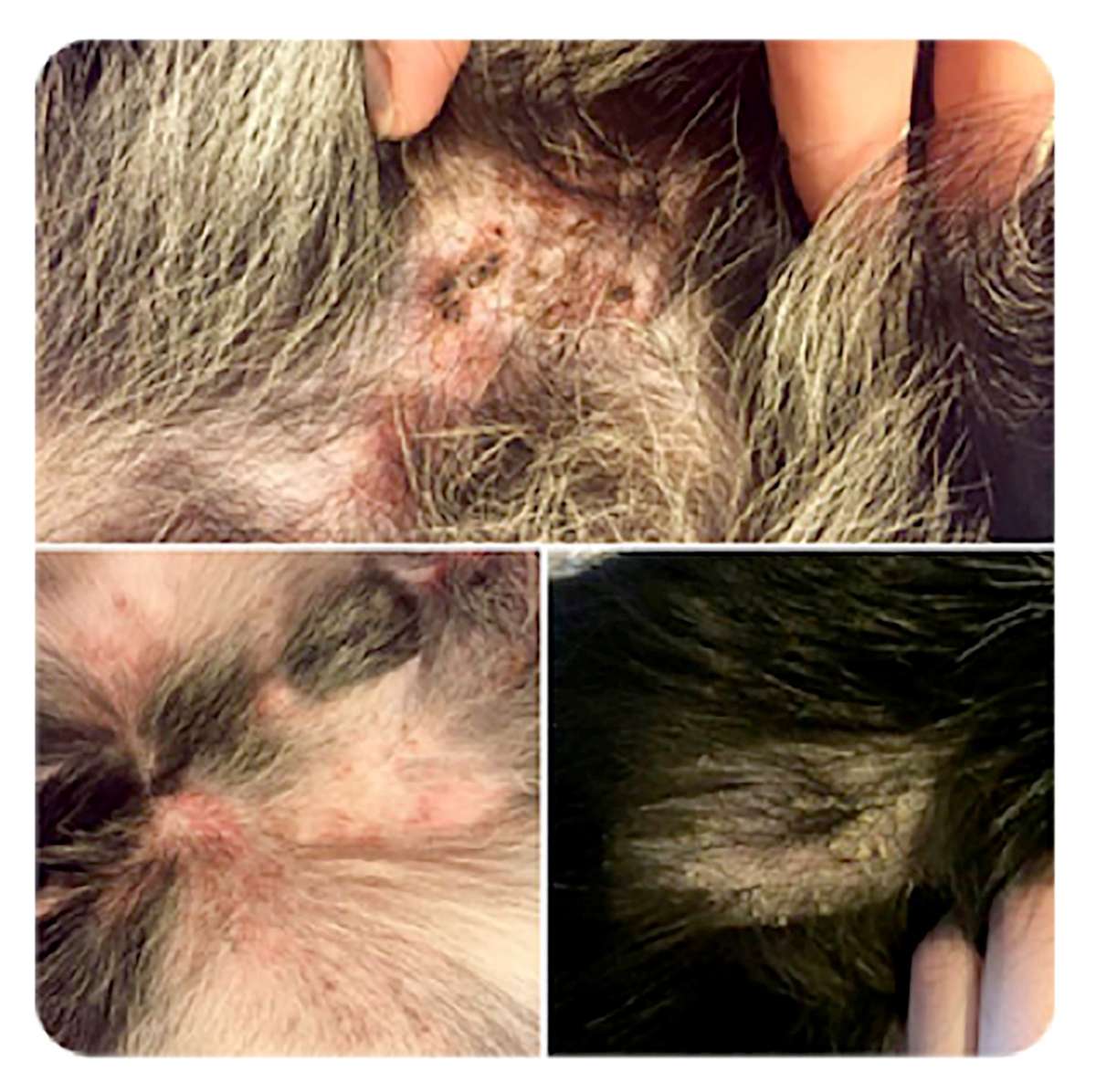 TWO WEEKS on Omega Balance and his rash was gone.
I decided to try Grant on OmegaBalance, in TWO WEEKS his rash was gone! Grant was scratching nonstop & had this terrible rash. His skin was literally flaking off. Medicated shampoo, steroids & a change in food barely made a difference. Before long the rash & itch always returned. TWO WEEKS on Omega Balance & his rash was gone. His coat is shiny, soft & itch-free! We are both happy.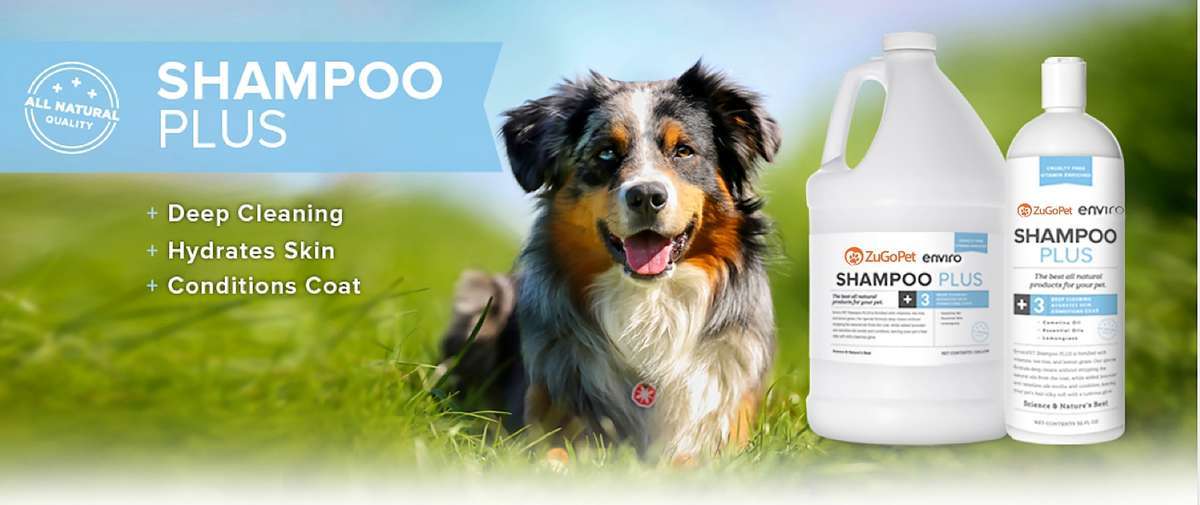 Deep Cleaning, Hydrates Skin, Conditions Coat

ZuGoPet's Enviro Shampoo PLUS is a vitamin-enriched, deep-cleaning & conditioning shampoo unique among pet shampoos. Enviro Pet's exclusive formula contains high-Iathering cleansing agents fortified with moisturizers, emollients, & vitamins. Enriched with our very own Camelina oil, it simultaneously provides deep cleaning, conditioning for skin & hair, smells amazing, & you will love the results!