Back to the top
Jetsetter - Premium Car Seat & Airport Compliant Pet Carrier (Black, White & Grey)
Hey there, fur-parents! Are you tired of juggling all those different pet carriers for different occasions? Well, say hello to the Jetsetter Bag from ZuGo Pet!
This pet carrier is a real game-changer, and it's not just your average pet purse! It is a cozy bed for your furry friend, and it doubles as a dog car seat AND a hands-free walking leash! How pawsome is that?
One of the best things about the Jetsetter Bag is its detachable interior dog walking leash that secures your doggo safely inside the carrier. No more worrying about your furry friend running off while you're on a walk! Plus, it's airline-approved for those jet-setters who love to travel with their pets.
The Jetsetter Bag is also a high-fashion designer pet bag, making you and your furry friend the envy of all other pet owners. And if you're a vegan or animal rights supporter, don't worry! This carrier is vegan friendly too!
The 16-inch Jetsetter Bag is perfect for small dogs or cats, measuring 10" wide x 9" tall and 16" long. For those who need a little extra space, the 20-inch carrier is 10" wide x 9" tall and 20" long.
Premium Airplane Compliant Pet Travel Carrier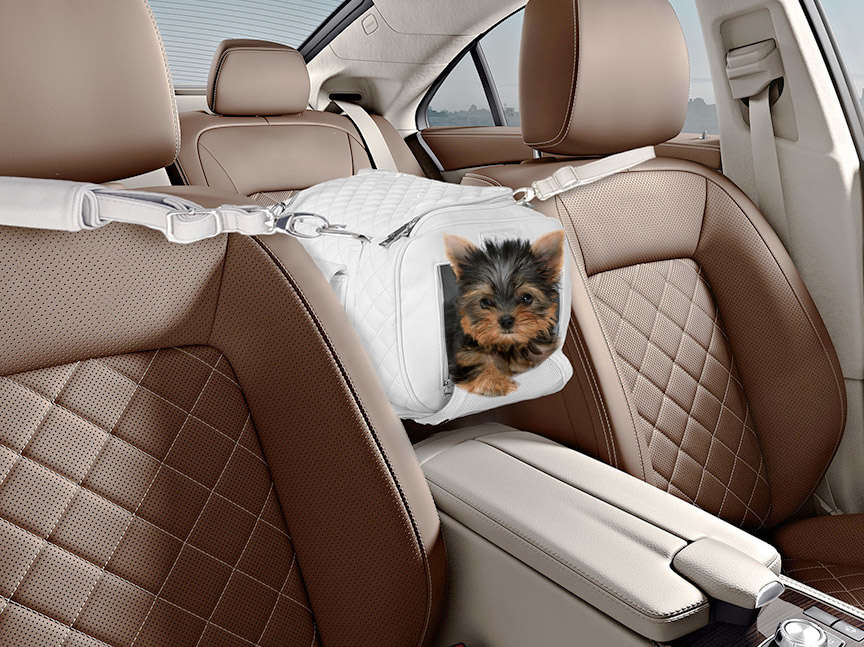 HOW TO USE ZUGOPET JETSETTER
One of the most multifunctional pet carrier in the world
Premium Designer Handbag
Five pockets for your belongings
Airline Compliant Carrier
Dog Car Seat
Dog Bed
Hands Free Dog Leash
Luggage Attachment
Interior Safety Strap
Long Adjustable Shoulder Straps
High Quality Double Zippers
Heating & Cooling Compartments
HOW TO USE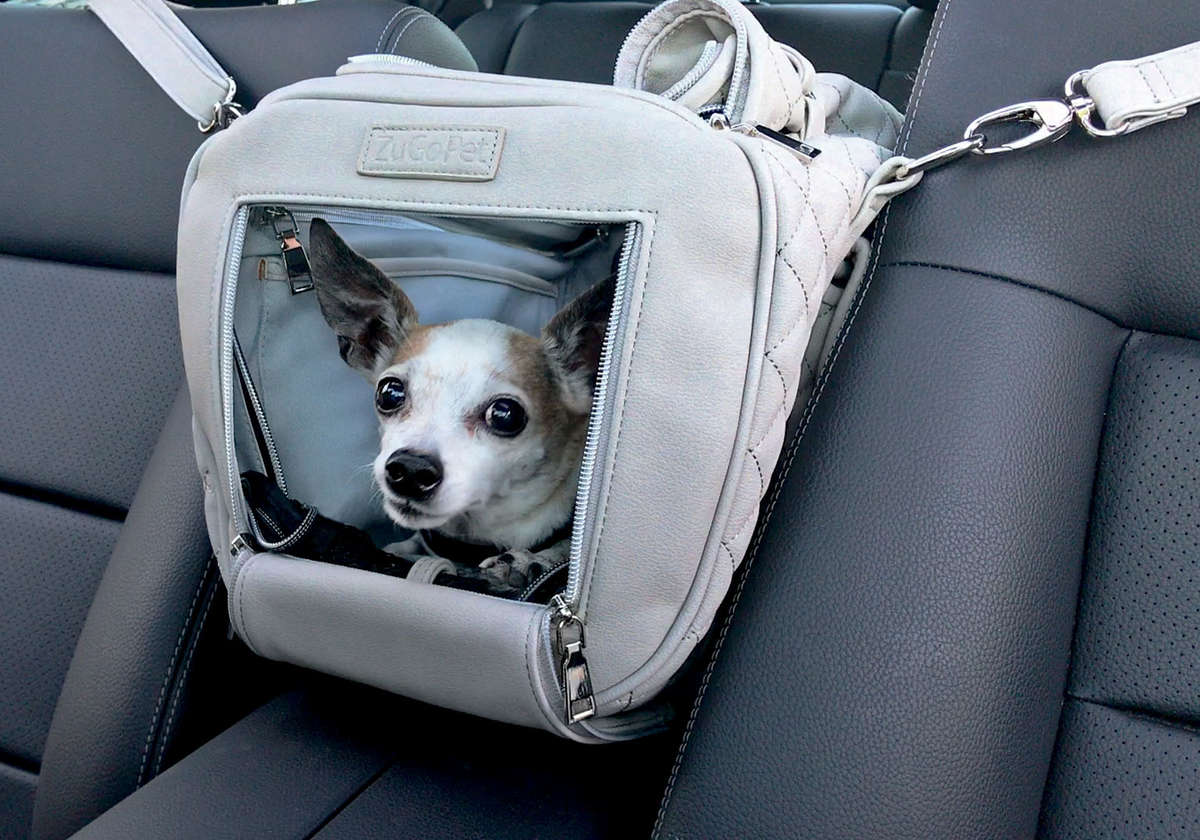 The specially designed Jetsetter straps between the two front car seats so your pet can lay comfortably near you. Attach the Interior Safety Strap to the pets harness so they can stay comfortably inside the bag without distracting the driver. The Jetsetter eases the anxiety of your pet so they can sleep. They get a great view around the cabin from a central spot in the car. The Jetsetter resides several inches above the center console so you can continue to use it as usual. Patent-pending design keeps the bag from folding while hanging between the two front car seats.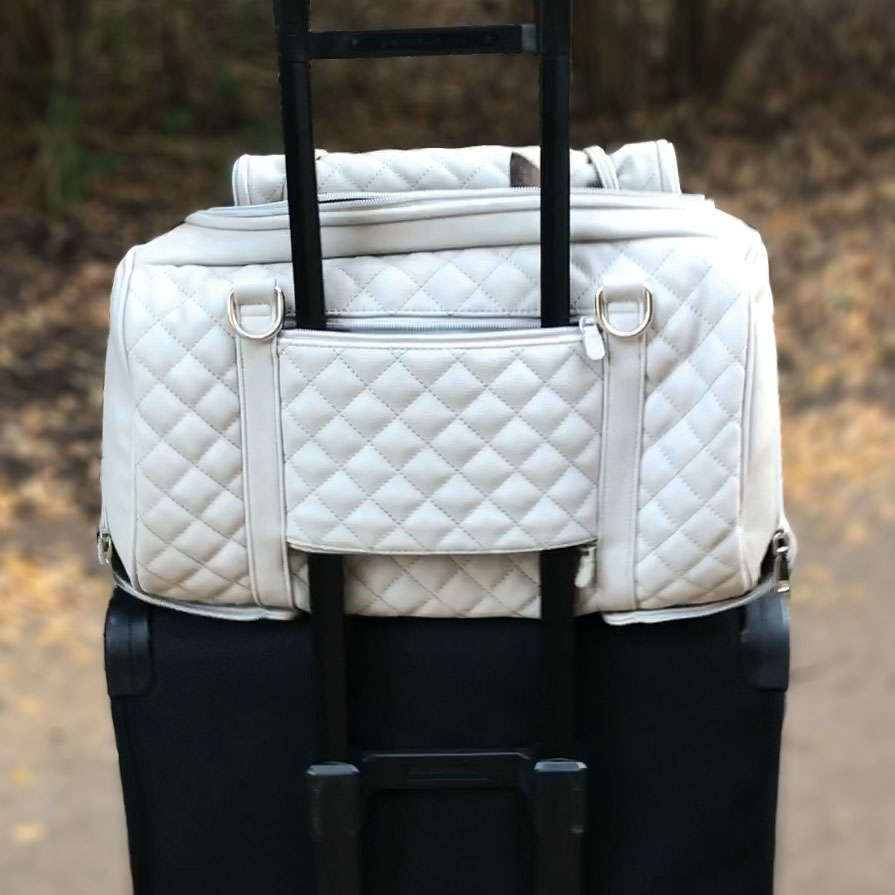 Car, Train, or Plane -- Jetsetter's design allows you to travel on any airline whether it's domestic or international. The Jetsetter has three separate double zipper openings with easy to zip, double mesh doors if your dog wants more privacy or gets frightened while traveling, zip up the two mesh sides allowing air to flow into the bag.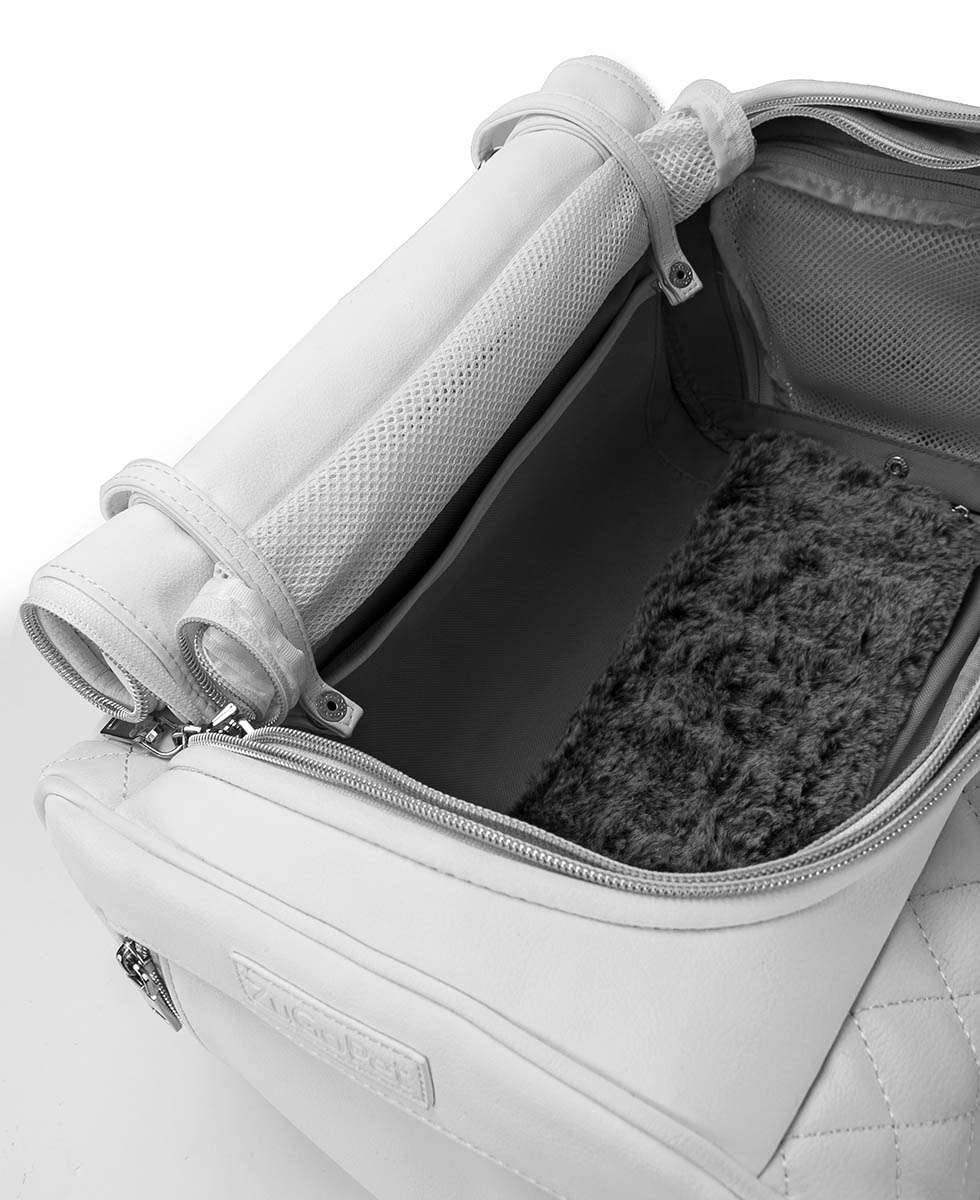 Three Openings with Mesh
Water proof Interior
Two Extra Long Interior Pockets for heating and cooling units
Removable & washable faux fur (imported from France)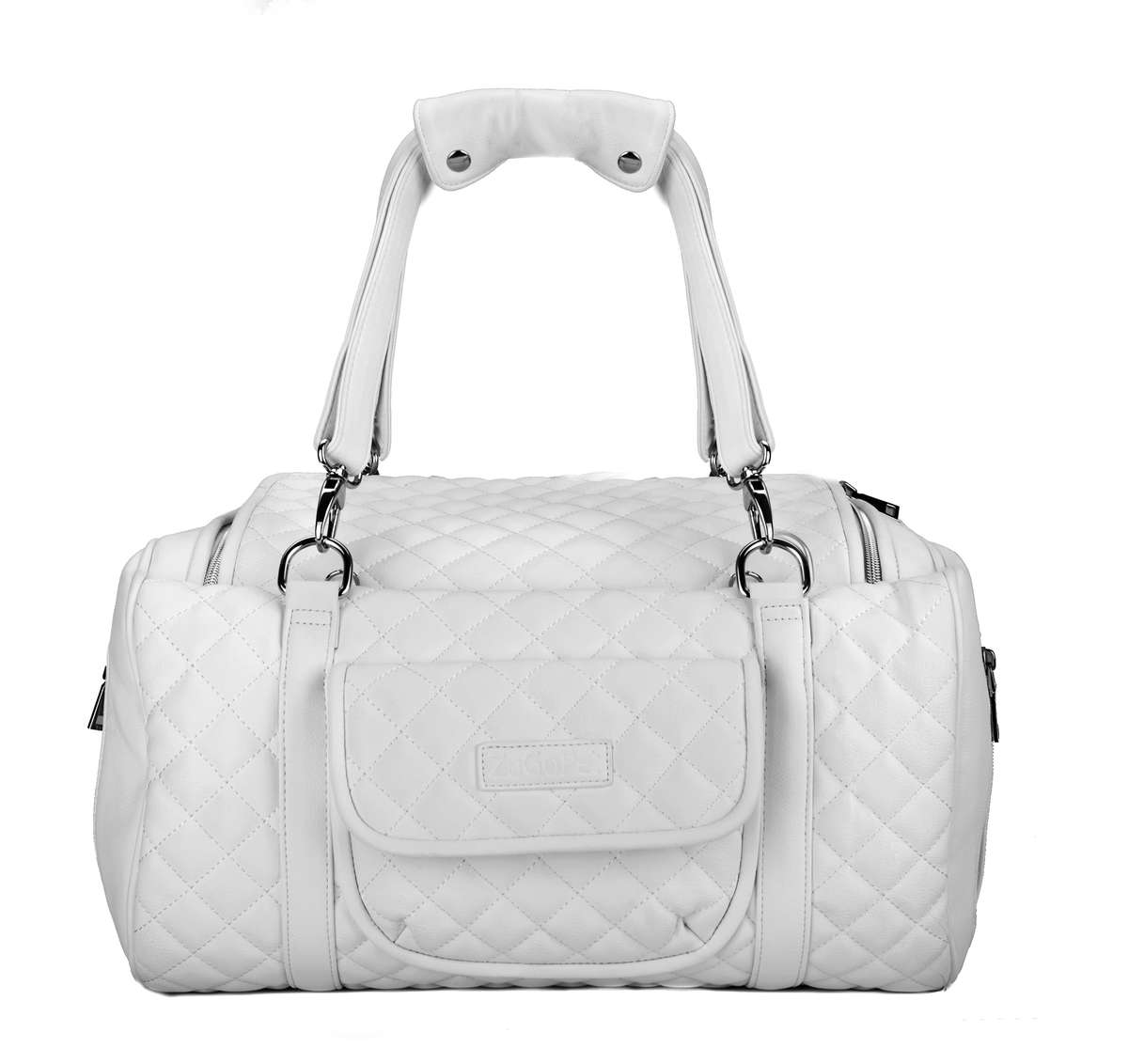 Eight pockets - easily store your phone, passport, wallet and more!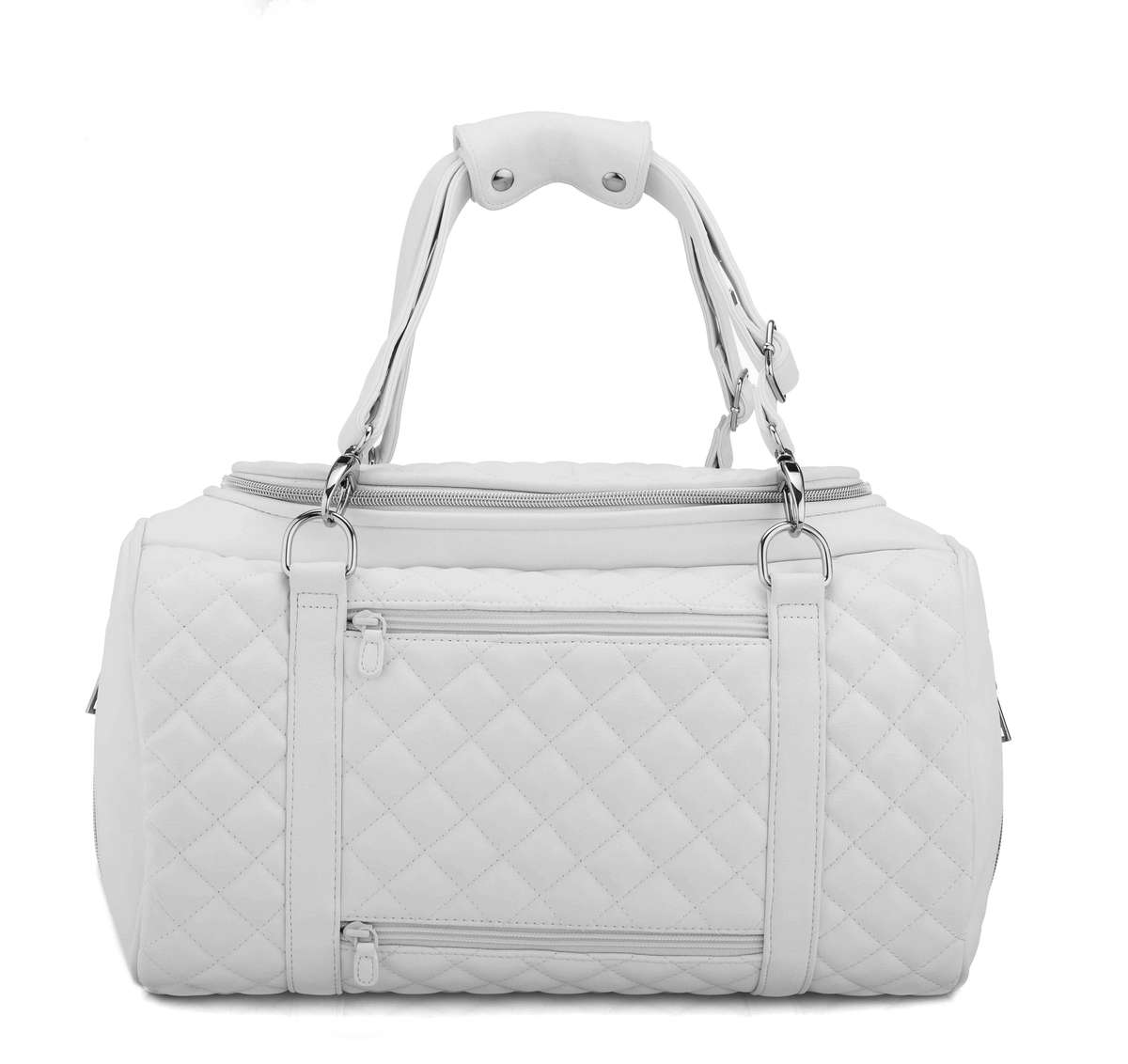 Jetsetter slides on a standard luggage handle, tote your loved one around the airport with ease!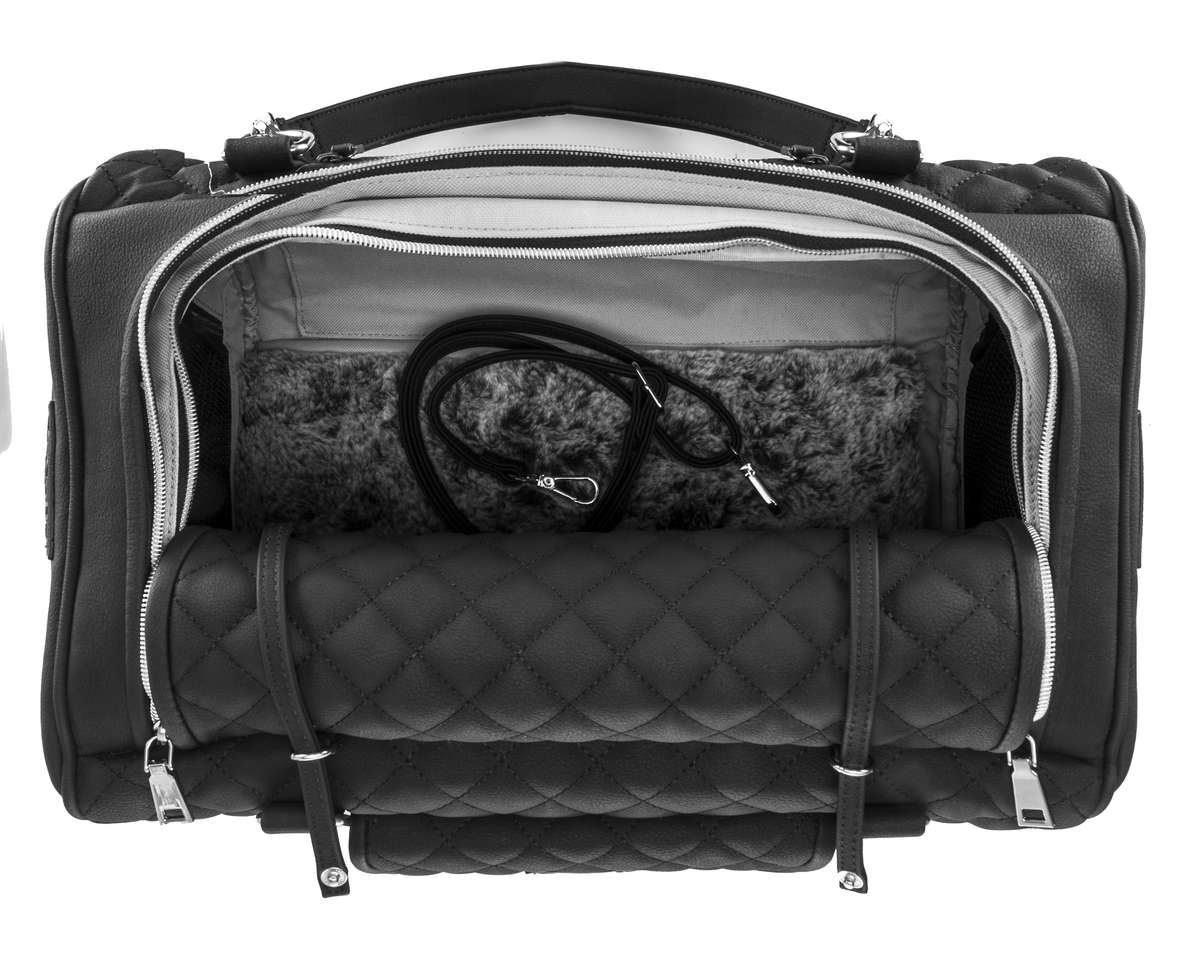 Stylish Premium Vegan Faux Leather
Ultrasoft Flexible Washable Pillow - Your dog will feel comfortable and relaxed while feeling cradled in this plush carrier. No more anxiety while traveling.
Interior safety strap that makes sure your dog stays in the bag at all times.
Handsfree walking leash with two clips - Easily clip your dog onto a fence or any stationary object.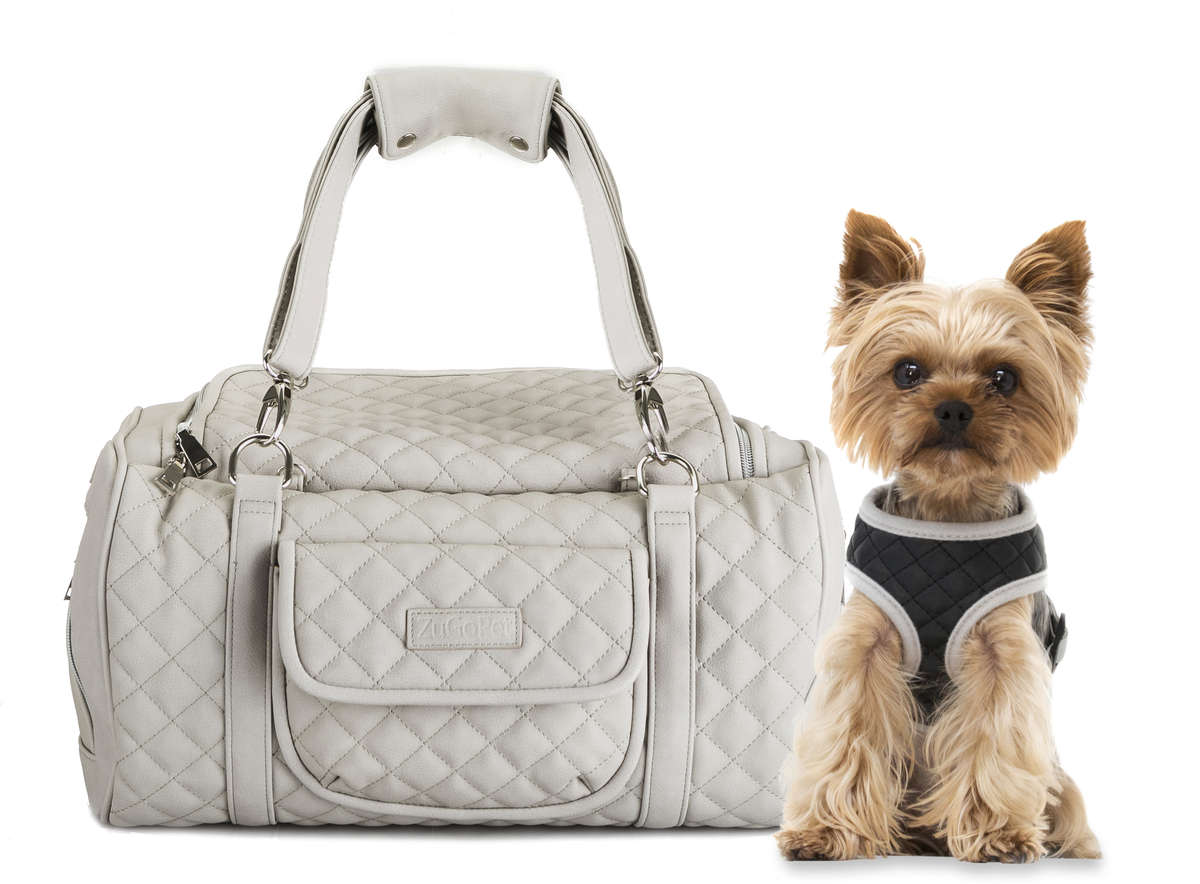 ZuGoPet has donated thousands of dollars to rescue dogs out of kill shelters and to help find them happy homes. Every bag purchase helps an animal in need. With our "Buy a Bag, Save a Life" program, any ZuGoPet product purchase we donate to an animal rescue facility.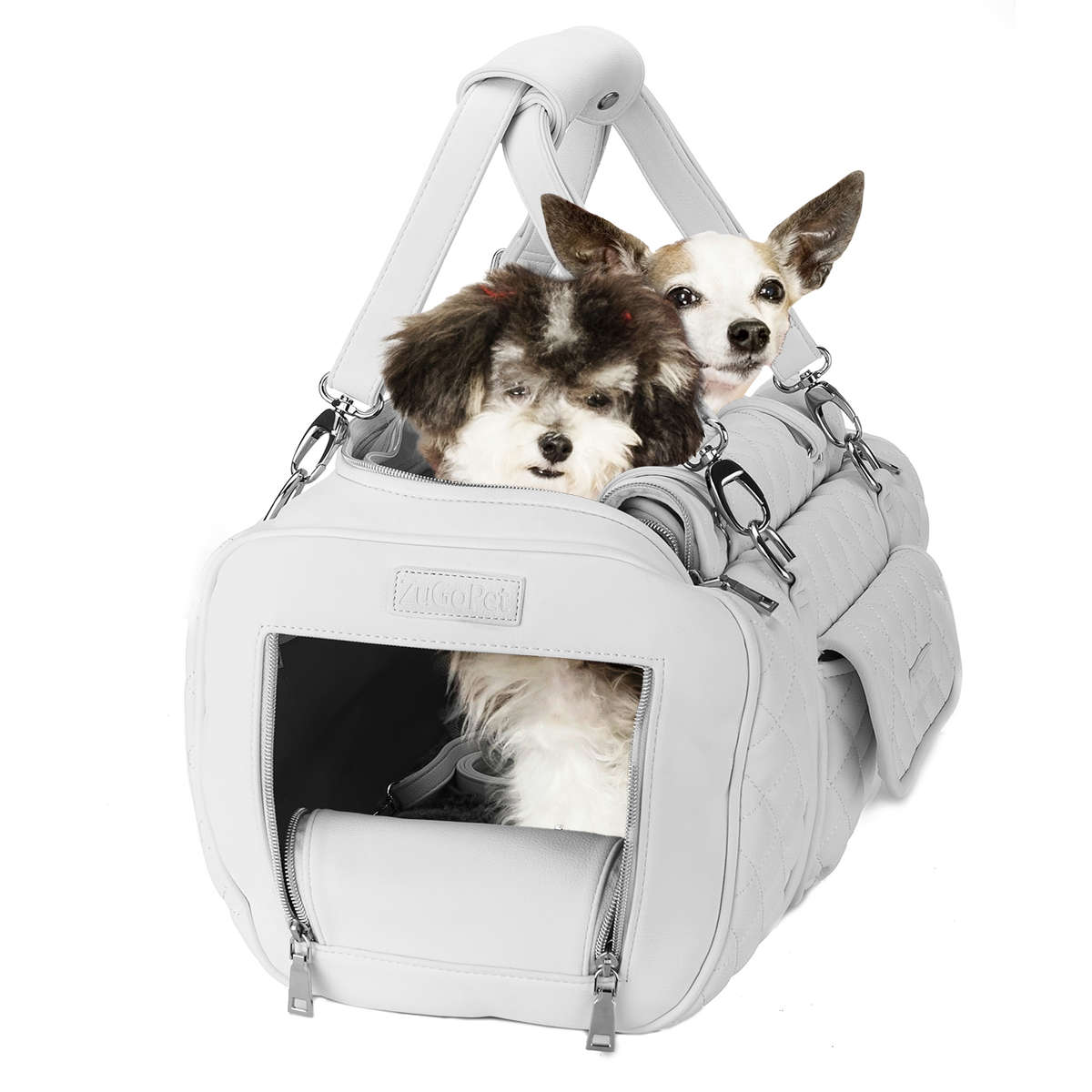 The ZuGoPet Jetsetter is made for dogs smaller than 20 inches.
Dogs can use the bag as a car seat distraction tether. Open up the top section of the bag. Your dog can sit up and be positioned right next to you in the car.
Jetsetter Premium Carrier (Vegan Faux Leather)
Safety Tether (Doubles as Hands Free Walking Leash)
Ultrasoft Flexible Washable Pillow
Adjustable Shoulder Straps
Dimensions 16" Jetsetter: 10" W x 16" L x 9" H (24.5cm x 40.6cm x 22.9cm)
Dimensions 20" Jetsetter? 10"W x 20" L x 9" H (24.5cm x 50.8cm x 22.9cm)
What is the maximum pet weight & size? The maximum weight is 20 pounds if you're personally able to carry a dog that heavy.
What is the maximum pet size? Be sure your pet is smaller than the bag so your furry friend will fit! Please measure your pet's length, from the nose to the behind (tail not included). They should not be longer than either the 20" or 16" length of the bag so you can enclose them comfortably.
What colors are available? Currently, we have three colors, black, grey, and white.
How much does the 16 inch bag weigh? The bag weighs 4 pounds.
How does this bag help with motion sickness and anxiety? This bag is like a mini dog cave. Some dogs feel more secure in confined surroundings. It also has the same effect as a hammock. No bottom support conforms around the body of your pet to give a feeling of being cradled, hugged, or held.
How do you clean the bag? To clean the exterior, use a soft rag dampened with soap and water. The interior is made of an easy to clean waterproof canvas material.
Is the Jetsetter crash tested? No, Jetsetter is used as a distraction tether. It has not been crashed tested and is used in the car to help with distractions in the car.